---
Lighthouse Point Festival Contract for Local Artists & Crafters
Lighthouse Point Festival Contract for Non-Profits
Lighthouse Point Festival Contract for Food Vendors
---
CALL FOR ARTISTS
The South Shore Artists Group of Staten Island presents their 52nd Annual Art Exhibit
at Conference House Park in Staten Island, NY.  The exhibition will be on Sunday, June 2nd,
with a rain date of Sunday, June 9th, 2019.
Information Online at South Shore Artists Group
---
CALL FOR SUBMISSIONS
The Conference House Association is pleased to announce CONFERENCE HOUSE ART
EXPO 2019, our celebration of creativity, culture and community!
A wide selection of painting, photography, sculpture, installation art and craft in all its
disciplines will be on exhibit. Exhibition will be on the grounds of Conference House Park and
inside the Conference House. Bonus! Each artist is invited to submit a small scale work (not
to exceed 24″ in any dimension) to be exhibited during the opening reception and the Expo
within the Conference House.
DATE
Opening Reception May 16, 6 – 8 pm. Expo is on May 18, 11 am – 4 pm. (Rain date May 19, 2019.)
ENTRY
Send three (3)jpeg images of your work with name, address and phone to
DMWproductions@si.rr.com. Or, send photos to Deborah Woodbridge,7455 Hylan Blvd.,
Staten Island, NY 10307.
FEE
The basic fee for exhibiting will be $50 for each exhibitor. Exhibitor may display their work on
a 10′ wide section of 8′ high fence or set up their own display in a designated area in
Conference House Park. Artists/Craftpersons will be responsible for all sales. No commission
will be required.
ACCEPTANCE AND NOTIFICATION
Notification of acceptance will be sent, with contract and instructions for payment. Hanging/
exhibition arrangements will be made upon receipt of contract and exhibition fee. Notification
will be sent out by April 5, 2019.  (Contact Deborah Woodbridge for submissions past this date.)
All artwork must be original or signed limited edition with the exception of installation art. All
work must be presented to a professional standard. The Conference House Association
reserves the right to refuse inappropriate work. All work must have a label with artist, title,
medium, dimensions and price. All artists and craftpersons or a representative must be present
during the entire show.
For inquiries, please call Deborah Woodbridge @917-539-2559, 9am – 9pm.
---
The NYC DOT has many opportunities for artists.  See their website for additional calls for art & artists.
---
Barrier Beautification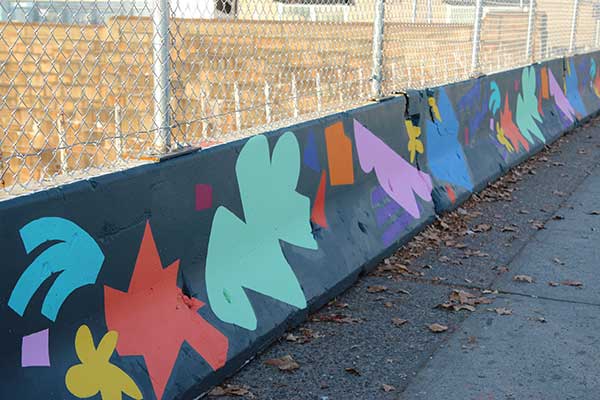 Bounce by Brittany Baldwin. Presented with New York Cares. Queens Boulevard between Woodhaven Boulevard and 59th Avenue, Queens.
DOT Art collaborates with New York Cares to beautify concrete barriers with bold, colorful murals that are designed by professional artists but painted almost entirely by volunteers. Barriers located along protected bike lanes or active sidewalks become canvases for art. DOT Art provides selected artists with a design honorarium of $2,500 and a materials fee of $500 for stencil production. DOT Art and NY Cares provide paint and associated materials at no cost to the artist. NY Cares coordinates volunteer recruitment and secures volunteers to implement the mural on a single day in fall and spring. Murals remain installed for 11 months.
Submission Deadline: Spring 2019
Download Barrier Beautification RFP (pdf)
Download Barrier Beautification Application (pdf)
Barrier Beautification projects on Flickr