2019/2020 BWAC/CFAL
Art On Loan Program
The Center for Appellate Litigation is a 40-lawyer not-for-profit law firm that represents indigent clients in criminal appeals and post-conviction proceedings in the Appellate Division, First Department, and in Bronx and Manhattan Supreme Court.  BWAC has been displaying members' artwork in their offices at 120 Wall Street, 28th Fl, New YorkNY10005 since 2015 on a yearly rotating basis.
Call For Submissions: This call is for all 2D & 3D art mediums that hang on walls. They are looking for work that represents the urban landscape that are bold, gritty, imaginative, and creatively outside the box.
Send all submittals via Dropbox, You Send, or e-mail only to fritz7730@gmail.com  
You may submit up to 30 images.  .
You must be a Current Paid BWAC Member in good standing.
Please remember that selected work will be on exhibit for at least 1year.
All images must be JPEG files – 72 DPI with longest dimension not to exceed 1600 Pixels, no file should exceed 2MB.
All files must be named as follows:
            Last Name – First Initial – Title – Medium
SCHEDULE:
Submission Deadline: Sunday January 20, 2019
Submittal for final selection to CFAL:Thursday 1/28/19
Final Selection to BWAC:Monday February 4, 2019
Notification to Artists: Tuesday February 5, 2019
Accepted work received at BWAC:
Friday February 22, 2019 – between 11AM and 4PM
Saturday February 23, 2019 – between 11AM and 4PM
Sunday February 24, 2019 – Between 11AM and 4PM
Transport of old work from CFAL to BWAC: Friday 3/1/19
Transport of new work from BWAC to CFAL:Friday 3/1/19
Pick-up old work at BWAC: Sunday March 3, 2019 between 11AM-4PM
Monday March 4, 2019 between 11AM-4PM
Saturday March 2, 2019 and Sunday March 3, 2019
Show Opens: Monday March 4, 2019
Opening Reception:
Wednesday March 20, 2019 or Wednesday March 27, 2019, From 6-9PM
If you have any questions contact:
Fritz (Steven) Weiss
C: 917-881-1947
PDF of BWAC-CFAL 2019/2020 Call for Submissions
---
---
The NYC DOT has many opportunities for artists.  See their website for additional calls for art & artists.
---
Barrier Beautification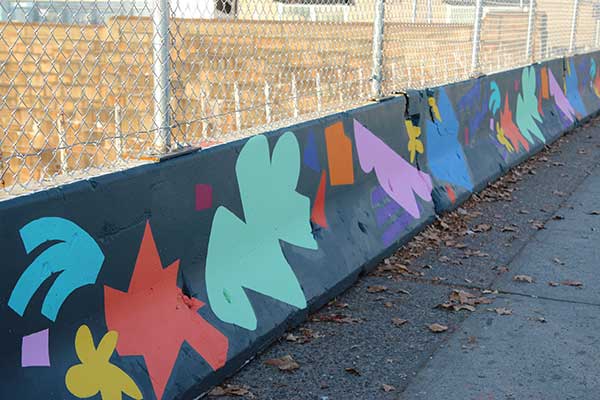 DOT Art collaborates with New York Cares to beautify concrete barriers with bold, colorful murals that are designed by professional artists but painted almost entirely by volunteers. Barriers located along protected bike lanes or active sidewalks become canvases for art. DOT Art provides selected artists with a design honorarium of $2,500 and a materials fee of $500 for stencil production. DOT Art and NY Cares provide paint and associated materials at no cost to the artist. NY Cares coordinates volunteer recruitment and secures volunteers to implement the mural on a single day in fall and spring. Murals remain installed for 11 months.
Submission Deadline: Spring 2019
Download Barrier Beautification RFP (pdf)
Download Barrier Beautification Application (pdf)
Barrier Beautification projects on Flickr
Arterventions*
The updated 2017 Arterventions Application has been released!
DOT Art invites organization/artist teams to install existing or new artwork on DOTproperty for up to six months. Typically, projects are associated with an exhibition already on view in a gallery, or a piece that has been produced in conjunction with a local festival. The project must be fully funded by the organization prior to applying for the necessary permits. Applicants are required to select a DOT site within the five boroughs.
Organizations are responsible for engineering review (if sculptural), artwork maintenance during the display period and site remediation upon completion of de-installation. All applicants must submit photographs of the proposed site and when relevant, a conceptual design for consideration and or photographs of an existing sculptural work.  Download the application here.  See DOT Art site for additional info.
Deadline: Rolling