This is an invitation to an exhibition opportunity for Artists and Crafters  from Fritz (Steven) Weiss – Show Chair for National Lighthouse Museum.
Call for Artists & Crafters to exhibit  at the Lighthouse Point Festival – Saturday September 29, 2018 from 1-6 PM.
The festival takes place on the Promenade at Lighthouse Point and Pier1, National Lighthouse Museum on Staten Island  (directly on New York Harbor, next to the Staten Island Ferry Terminal.)
---
The NYC DOT has many opportunities for artists.  See their website for additional calls for art & artists.
---
Barrier Beautification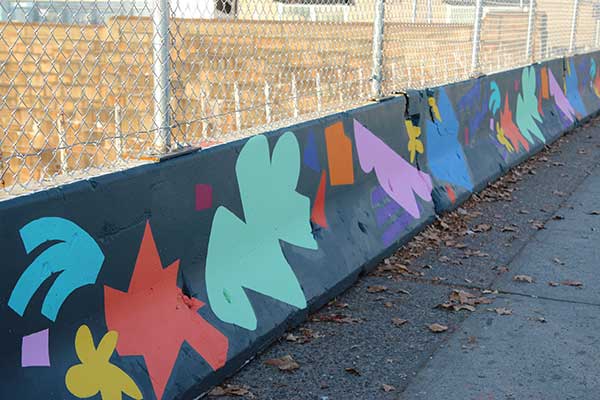 DOT Art collaborates with New York Cares to beautify concrete barriers with bold, colorful murals that are designed by professional artists but painted almost entirely by volunteers. Barriers located along protected bike lanes or active sidewalks become canvases for art. DOT Art provides selected artists with a design honorarium of $2,500 and a materials fee of $500 for stencil production. DOT Art and NY Cares provide paint and associated materials at no cost to the artist. NY Cares coordinates volunteer recruitment and secures volunteers to implement the mural on a single day in fall and spring. Murals remain installed for 11 months.
Submission Deadline: Spring 2018
Download Barrier Beautification RFP (pdf)
Download Barrier Beautification Application (pdf)
Barrier Beautification projects on Flickr
Arterventions*
The updated 2017 Arterventions Application has been released!
DOT Art invites organization/artist teams to install existing or new artwork on DOTproperty for up to six months. Typically, projects are associated with an exhibition already on view in a gallery, or a piece that has been produced in conjunction with a local festival. The project must be fully funded by the organization prior to applying for the necessary permits. Applicants are required to select a DOT site within the five boroughs.
Organizations are responsible for engineering review (if sculptural), artwork maintenance during the display period and site remediation upon completion of de-installation. All applicants must submit photographs of the proposed site and when relevant, a conceptual design for consideration and or photographs of an existing sculptural work.  Download the application here.  See DOT Art site for additional info.
Deadline: Rolling